Virtual Reality
Florida University Turns to VR to Teach Personal Finance
By Dian Schaffhauser
02/04/21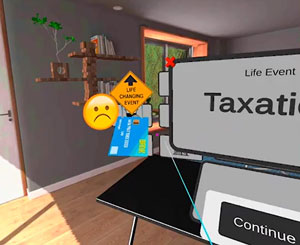 A Florida university is adding virtual reality experiences to two courses. Nova Southeastern University worked with Adept XR to develop an immersive learning program for students taking a personal finance class and another for accounting students. The company, a subsidiary of The Glimpse Group, creates custom VR and augmented reality experiences for higher ed and corporations.
During the Fall 2020 semester, first-year students donned headsets for a course where they practiced life skills. The program allowed them to go through simulated decisions on weekly budgeting, home purchases, unexpected expenses and other aspects of personal finance. A second VR experience enabled accounting students to walk into a virtual warehouse and do inventory counts to practice conducting audits. According to the company, NSU is now considering creation of an avatar that uses artificial intelligence to enrich student interactions and engagement.
"We have high expectations for our students and we work to thoughtfully captivate and challenge them in memorable ways. That's why I am excited to offer VR experiences provided by Adept XR," said Andy Rosman, dean of the university's H. Wayne Huizenga College of Business and Entrepreneurship, in a press release. "Together with faculty, [the company has] managed to create two unique exercises that engage students in a way no other medium can."


Dian Schaffhauser is a senior contributing editor for 1105 Media's education publications THE Journal, Campus Technology and Spaces4Learning. She can be reached at [email protected] or on Twitter @schaffhauser.