This article is part of our NBA Roundtable series.
Welcome to another edition of the RotoWire NBA Roundtable!
This week, the staff weighs in on the impact of COVID-19 on fantasy basketball, players struggling early on, the hotly contested Most Improved Player award race, and more.
Which struggling players have you been forced to cut bait on through the first month of the season, and who have you replaced them with?
Ken Crites: I gave up on Kelly Oubre in a keeper league trade for Keldon Johnson. I'm not cutting bait on D'Angelo Russell, but he's certainly disappointing me. Frankly, so many of my redraft-league moves are just related to who is playing and who is not playing. But so often in my weekly transactions I feel like I'm just guessing.
Alex Barutha: Blake Griffin. I quickly cut him in a relatively shallow points league and replaced him with De'Andre Hunter. It's looking like Griffin's career is entering its twilight years, which is more depressing than anything and, as an aside, I hope he can find his way onto a competitive team where he can just play 22 minutes a game and be a veteran presence. Hunter's improvement as a sophomore has been really impressive. He's the 60th-ranked fantasy player right now and has learned to be aggressive on offense outside of being just purely a three-point specialist.
Mike Barner: I play in mostly deep leagues, so there aren't exactly a lot of viable options on waivers. I generally just have to go the benching route, which I've had to do for Kelly Oubre Jr. I certainly never expected that. I do think he rebounds, though, so he's an attractive buy-low option.
Jeff Edgerton: I dropped Terry Rozier and snagged Cole Anthony right after that injury situation opened up. Anthony started slow, but he's coming around and I'm hopeful for a decent second half.
How have the rampant COVID-19-related absences and game postponements impacted your general engagement with fantasy basketball this season?
Crites: It's starting to bum me out, that's for sure. Jimmy Butler is killing a few of my teams. That's just one example. You can't blame anyone, but the whole situation is starting to make things feel like a bit of a crap shoot.
Barutha: It definitely makes me wish more leagues were daily lineup lock. A team can have three games postponed starting on a Tuesday, and you're just screwed if you're starting a star player from that team on a weekly lock. To some extent, everyone in a fantasy league will probably be hit, so it might even out. But it's hard to know how good your team actually is, which makes trading and waiver moves more complicated.
Barner: I'm as locked in as ever, but these postponements do drain the life out of head-to-head leagues where you can only set your lineup on Monday for the entire week. If you get a couple of guys ruled out early in the week, you're essentially toast. 
Edgerton: On the DFS end, it's certainly frustrating. It's exponentially more important to be around before game lock. It's no better in seasonal leagues, especially weekly H2H, but we adopted a policy where you can use a COVID player's seasonal average when they are out.
Which side would you pick to win the 2021 NBA title: the Lakers or Nets OR The Field?
Crites: I think a more even wager would be "Lakers versus the Field". The Lakers look awesome. I can't believe the day-to-day intensity LeBron is playing with. I'm surprised he's not taking any nights to rest.
Barutha: Lakers or Nets. No other team has emerged to make me think the Lakers aren't winning the title again. The Clippers are probably still the primary challenger to both the Nets and the Lakers, but they're also a hard team to trust given what happened last season in the playoffs and the weird losses they're still taking this season.
Barner: I'll take the Lakers or Nets because I think the Lakers are going to repeat. I think the Nets made themselves worse with the James Harden trade, but over the course of a seven-game series, their big three are going to be difficult to beat. I wouldn't be surprised to see these teams face off in the finals.
Edgerton: It's hard to argue against either team, but I would have to go with The Field right now. The Bucks, 76ers, Celtics and Pacers are all still very viable in the East. The Clippers and the Jazz will be significant roadblocks for the Lakers in the West.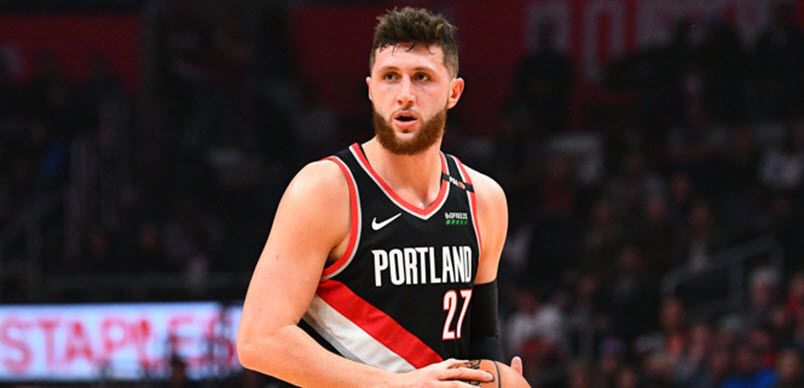 Who is the player you were most wrong about heading into the season?
Crites: Myles Turner. In fact, it looks like both me and the Celtics were wrong about Turner.
Barutha: LaMelo Ball. I thought he'd be relatively ineffective and a complete chucker. It turns out he's an extremely high-IQ player who isn't selfish and doesn't take awful looks. His percentages still aren't great but you can live with them given his passing and rebounding (especially on the offensive boards).
Barner: I was all-in on Jusuf Nurkic this season. Even before he suffered his wrist injury, he wasn't playing well. I took him in the third or fourth round in the leagues that I drafted him, so he's dealt a major blow to those squads.
Edgerton: I really thought Kelly Oubre was in a great spot with Golden State. Although things have improved somewhat, it turns out I paid way too much for him.
With James Harden teaming up with Kevin Durant and Kyrie Irving in Brooklyn, what are you fantasy expectations for the Nets' Big Three? Whose value takes the biggest hit, and how do you value Harden relative to his last few years in Houston?
Crites: First of all, as a Celtics fan I can't stand them. They are the villain team of 2020-21. They will be better in fantasy that in real life, because the big concern with the Nets is defense. In terms of value, I suspect Irving will take the biggest hit. Though who knows with Kyrie. He may self-inflict more damage than Harden's dribbling may cause.
Barutha: I think all their values take a hit, but I think his biggest hit will ultimately be James Harden, mostly because his pre-Brooklyn usage rate was so unbelievably high. He's down a full 10% in usage rate compared to last season, and he has just a 21% usage rate with Durant and Kyrie on the court (18 points, 10 assists per 36 minutes).
Barner: I think Irving takes the biggest hit because he won't have the ball in his hands as much now with Harden in the fold. Harden could see a decline in usage rate playing alongside Irving and Durant, but he should still provide first-round value.
Edgerton: From a DFS perspective, the team is a major headache. If they changed the rules so there could be three balls on the floor at once, then I'd feel better about their fantasy utilization. He might get his title, but I don't think this is a good fit for Harden. I think he'll be the odd man out more often than not, and I recently traded him based on that hypothesis.
The Most Improved Player race is shaping up to be extremely competitive. Based on the odds at the DraftKings Sportsbook, who is your favorite bet right now? 
Crites: Give me Chris Boucher at +1000. He is improving from the lowest starting point of the group. Everyone on that list is a far bigger name than Boucher.
Barutha: It's not fun because he's one of the favorites, but I'd have to go with Christian Wood at +150. He's definitely made the leap into an All-Star caliber player, and I'd be worried about betting on Jerami Grant because the Pistons are that bad. 
Barner: I agree that the two favorites should be Christian Wood and Jerami Grant and I'd probably lean towards placing a wager on Wood if choosing between the two. However, Julius Randle at +3300 is an appealing long shot. If the Knicks claim a playoff spot, his dramatic improvement in assists will be difficult to ignore.
Edgerton: Boucher at +1000. I think we may be in for a course correction from Christian Wood and Boucher's explosiveness off the bench is one of the bigger surprises of the year.