Events
New CT Leadership Summit: Innovating out of the Pandemic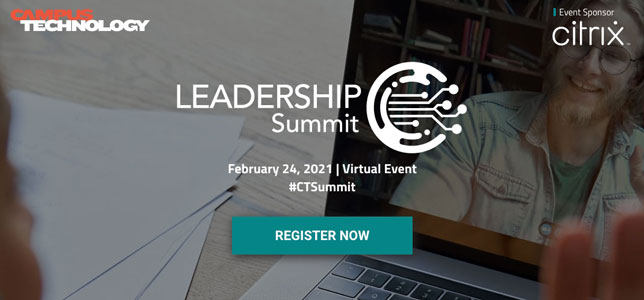 Higher education's response to COVID-19 has required agility, flexibility and perhaps most important, innovation. On Feb. 24, the Campus Technology Leadership Summit will explore how colleges and universities are innovating their way out of the pandemic: Join us for this free, one-day virtual event as education and IT leaders share how they are managing the challenges of remote work and learning, adapting to change and solving problems with outside-the-box ideas and practices. On the agenda:
Session 1: Creating Solutions to Connectivity Challenges 
While the digital divide has long been an issue in higher education, the current pandemic has put connectivity challenges in stark relief. The sudden move to remote work and learning has made clear that access to the internet and digital resources is essential to succeed in a connected world. In this session, education changemakers from Arizona State University's ShapingEDU community of practice will share how they are tackling the need for universal broadband access and how collectively we can build a more equitable future.
Presenters:
Lisa Gustinelli, Instructional Technology Director St. Vincent Ferrer School + ASU Innovator in Residence ShapingEDU
Allison Hall, Director of Learning Experience Design, University Technology Office at Arizona State University
Paul Signorelli, Storyteller in Residence, ShapingEDU
Session 2: HyFlex: What We're Getting Right and What We're Doing Wrong
As campuses have reopened for some degree of in-person learning, many have opted for the HyFlex model — in which students choose to participate in class either in person or remotely, with both formats occurring simultaneously. In this session, both IT and faculty share their best and worst experiences with HyFlex, from pedagogy to technology and everything in between.
Session 3: How Tech Is Helping Faculty Assess Student Learning
While some educators fear the impact of remote learning on academic integrity, others are using this opportunity to change up how they assess student learning. In this panel discussion, instructional experts discuss how their institutions have adopted creative techniques and tools for assessment that help them uncover what students know and where their learning gaps exist.
The Campus Technology Leadership Summit will take place online on Wednesday, Feb. 24 from 9:00 a.m. to 11:45 a.m. PT. The summit is produced by the staff of Campus Technology, made possible by the generous support of our event sponsor, Citrix. For more information and to register, visit the CT Summit site.


About the author: Rhea Kelly is executive editor for Campus Technology. She can be reached at [email protected].