In central Moscow, where Reuters reporters estimated at least 40,000 people had gathered in one of the biggest unauthorised rallies for years, police were seen roughly detaining people, bundling them into nearby vans.
The authorities said just some 4,000 people had shown up.
Some protesters chanted "Putin is a thief", and "Disgrace" and "Freedom to Navalny!"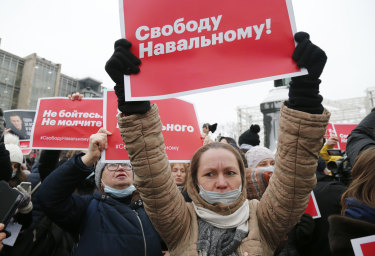 Navalny's wife Yulia said on social media she had been detained at the rally. Navalny's mother Ludmila was also at the protest.
Some of Navalny's political allies were detained in the days before the protest; others on the day itself.
The OVD-Info protest monitor group said that at least 1,090 people, including 300 in Moscow and 162 in St Petersburg, had been detained across Russia, a number likely to rise.
It reported arrests at rallies in nearly 70 towns and cities.
Navalny, a 44-year-old lawyer, is in a Moscow prison pending the outcome of four legal matters he describes as trumped up. He accuses President Vladimir Putin of ordering his attempted murder. Putin has dismissed that, alleging Navalny is part of a U.S.-backed dirty tricks campaign to discredit him.
One Moscow protester, Sergei Radchenko, 53, said: "I'm tired of being afraid. I haven't just turned up for myself and Navalny, but for my son because there is no future in this country."
He added that he was frightened but felt strongly about what he called an out of control judicial system.
There was no immediate comment from the Kremlin, which had previously called the protests illegal and the work of "provocateurs".
Reuters