AV Gear
San Diego State U Upgrades Microphones for Hybrid Learning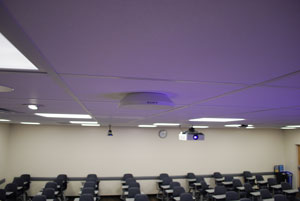 Courtesy of San Diego State University
San Diego State University is outfitting nearly 200 classrooms across its main and Imperial Valley campuses with Sony's MAS-A100 beamforming ceiling microphone, to support the hybrid classroom model. The hands-free lecture and presentation solution uses speech reinforcement technology to provide clear audio without the typical constraints of lavalier or handheld microphones.
Features of the technology include:
Easy installation;
An Intelligent Feedback Reducer function, to extract speech while suppressing feedback;
Automatic gain control;
Ability to record lectures for on-demand purposes;
Dual-channel output for simultaneous recording of both instructor and student voices;
Compatibility with third-party Dante mixers, converters and other devices; and
Power over Ethernet capability.
"As we refreshed the design of our classroom due to the pandemic, we sought a touchless experience to safeguard employees and adhere to health and safety protocols," explained Rudy Arias, associate director for Instructional Technology Services at San Diego State University, in a statement. "We were looking for an audio solution that would be hands-free, easy to implement, cost-effective and offer high-quality sound from any location. When we were introduced to the Sony IP ceiling microphone through a virtual demo, we placed our order within hours. We knew right away that it met our list of requirements and would be a reliable solution for our new hybrid classroom experience. We are currently installing them across our two campuses to make a bigger impact and facilitate a more engaging educational experience for teachers and students alike, and we are actively exploring and testing additional Sony classroom solutions to complement the new microphones and enhance our display capabilities."


About the author: Rhea Kelly is executive editor for Campus Technology. She can be reached at [email protected].