"This is democracy's day, a day of history and hope, of renewal and resolve," Biden said.
"America has been tested anew, and America has risen to the challenge."
Biden also pledged that he would be honest with the country as it continued to confront difficulties, saying that leaders have an obligation "to defend the truth and defeat the lies".
He asked even those who did not vote for him to give him a chance. "Hear me out as we move forward," he said.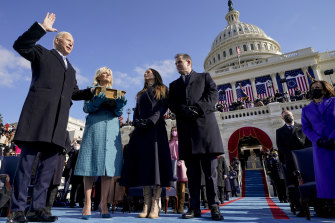 Biden thanked his predecessors from both parties for attending the event. Former vice-president Mike Pence attended the event, while former president Donald Trump skipped the festivities and headed to Florida earlier in the day.
Biden was sworn in using a Bible that has been in his family since 1893 and was used during his swearing-in as Vice-President in 2009 and 2013.
The thick Bible, which could be seen on a table next to Biden's chair on the dais, has a Celtic cross on its cover and was also used each time he was sworn in as a US senator.
Biden's late son, Beau, also used the Bible for his own swearing-in ceremony as attorney-general of Delaware and helped carry the Bible to his father's 2013 ceremony.