"We're looking at significant felony cases tied to sedition and conspiracy," Sherwin said, noting his office has launched a strike force whose marching orders are to build criminal cases around such charges.
He added that other strike forces have been formed to focus on assaults on law enforcement and members of the media.
The Justice Department is considering bringing sedition or conspiracy charges against people who rioted at the U.S. Capitol last week.
If found guilty, the rioters could face prison terms of up to 20 years, Sherwin said.
The US attorney for the District of Columbia has brought federal charges against about 20 people so far, while 40 others have been charged in DC's Superior Court. The people charged in Superior Court are mainly accused of things such as curfew violations and gun crimes. Those being tried in federal court, where prosecutors can generally secure longer sentences, are charged with offences such as violent entry and disorderly conduct on Capitol grounds, assaulting a federal law enforcement officer and threatening House Speaker Nancy Pelosi.
On Tuesday, federal agents arrested the son of a New York City judge, who was seen inside the Capitol wearing a fur costume and a police vest authorities say he stole during the mayhem. Images posted on social media showed agents appearing to remove part of Aaron Mostofsky's fur getup from the Brooklyn home where he was arrested. He faces charges including theft of government property.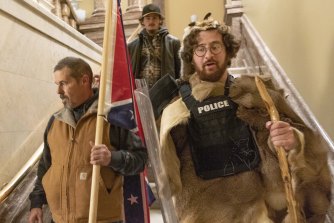 Federal authorities on Sunday arrested two men who were photographed with plastic restraints inside the Capitol. Investigators said they used social media and livestream videos to identify Eric Munchel of Tennessee as the masked person seen in photos carrying plastic hand restraints in the Senate chamber.
Retired Lieutenant Colonel Larry Rendall Brock Jr of Texas was photographed on the Senate floor carrying zip-tie handcuffs and wearing a military-style helmet and vest, authorities said. Brock's ex-wife helped authorities identify him, according to court documents. He confirmed to The New Yorker that he was the man in the photographs and claimed he found the zip-tie handcuffs on the floor. "I wish I had not picked those up," he said.
At least two Capitol police officers – one who took a selfie with the attackers and another who put on a Make America Great Again hat – have been suspended. At least a dozen more are under internal investigation for their behaviour during the uprising, according to lawmakers.
Loading
The Capitol officer who shot Trump supporter Ashli Babbitt as she tried to climb through a broken window into the Speaker's lobby has been placed on administrative leave per agency policy, and the shooting is under investigation by Capitol police and the Metropolitan Police Department.
An Illinois man was arrested for threatening to kill Democrats during the inauguration next week, the Justice Department announced on Wednesday AEDT.
Louis Capriotti, 45, is charged with transmitting threats on a voicemail message, the department said. He may be the first individual who has been arrested for threatening violence in the coming days, as opposed to carrying out violence during the riot at the Capitol last week.
Capriotti allegedly left a voicemail for a House lawmaker on December 29 saying "we will surround" the White House and kill any Democrats that step on its lawn, according to the department.
Democrat Senate leader Chuck Schumer is calling for people who participated in the riots at the Capitol on January 6 to be placed on the federal no-fly list that is used to bar terrorists from travel on commercial jetliners.
"The insurrectionists who breached the Us Capitol fall under the definition of threats to the homeland and should be immediately added," Schumer said in a press conference in his home state on Wednesday AEDT.
The no-fly list, implemented in the wake of the September 11, 2001, terrorist attacks, broadly prohibits people from flying in the US.
Reuters, AP, Bloomberg