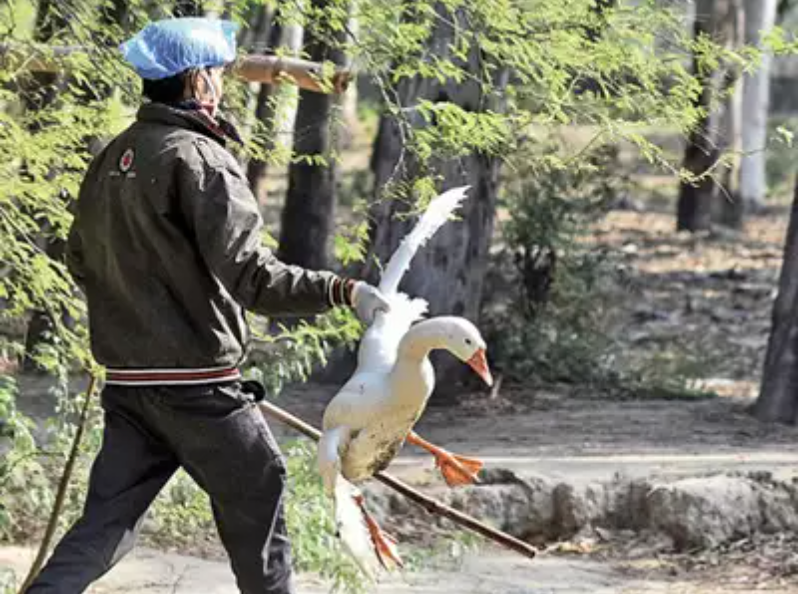 New Delhi
: The prevalence of bird flu was confirmed in Delhi on Monday after eight samples of dead birds tested positive for
H5N8
(a strain of
avian influenza
).
Ducks from Sanjay Lake and crows from Mayur Vihar and Dwarka were found to be positive for the infection. More than 128 samples had been sent for testing.
In the past four days, 140 birds, mostly crows, were found dead at Hastsal, in green areas along Ring Road, the Deer Park at Dilshad Garden, Central Nursery in Sector 5 Dwarka, district park at Sarita Vihar and Central Park at Mayur Vihar. The other dead birds included pigeons and ducks.
Nearly 400 ducks culled, buried in east Delhi lake
Subsequently, Delhi government banned the sale of processed and packed chicken brought from outside the capital.
Deputy CM Manish Sisodia said that CM Arvind Kejriwal was closely monitoring the situation and conferring with officials concerned. "There is no reason to worry. Processed chicken and livestock from other states has been banned as a precautionary measure. The Ghazipur poultry market will remain closed for a few days. With the duck samples from Sanjay Lake testing positive, the area is being thoroughly sanitised," he added.
In all, 380 ducks were culled and buried in Sanjay Lake on Monday. Mass fish mortality was also reported from the lake after which it was shut for visitors as a precautionary measure. However, officials said bird flu was not reported in the fish. Parks in Hastsal, Dwarka Sector 9 and Mayur Vihar Phase-II have also been closed.
While deaths of birds were reported from various areas, officials said the numbers at each spot were few.
Sisodia said 100 samples had been sent to Jalandhar, whose results were awaited. "It is a common influenza. The news of its spread from birds to humans has not been reported so far. Officials of the animal husbandry unit of the development department have been directed to carry out intensive campaigns across the capital," he added.
Advising people who eat chicken and eggs not to panic, Sisodia, who also holds the development portfolio in the Delhi cabinet, said, "There is no risk of infection from fully cooked chicken or boiled and cooked eggs."
Delhi government had issued an alert to all doctors and officials concerned on October 28, 2020 and issued a directive to monitor bird flu. On January 4, guidelines were issued to all doctors for continuous sample collection and strict monitoring. The government said that doctors of all 48 veterinary hospitals of the animal husbandry unit were continuously monitoring bird flu across the capital. Also, 11 rapid response teams had been set up to collect samples.