Indonesia's mass vaccination programme is set to start Wednesday week, January 13, the country's health minister has announced – and President Joko Widodo is set to be given the first shot.
Its plan to prioritise working-age adults over the elderly, aiming to reach herd immunity fast and revive the economy, will be closely watched by other countries.
The government has previously said 1.3 million frontline workers are set to be among the first to receive the vaccines made by China's Sinovac Biotech.
Professor Dale Fisher from the Yong Loo Lin School of Medicine at the National University of Singapore said he understood the rationale of Indonesia's approach. "Younger working adults are generally more active, more social and travel more so this strategy should decrease community transmission faster than vaccinating older individuals," he said.
China: virus danger zone designated
China has designated parts of Hebei province near Beijing as a coronavirus high danger zone after 14 new cases of COVID-19 were found.
Eleven of those cases were in Shijiazhuang city, where some events for the 2022 Winter Olympics will be held. An additional 30 people tested positive for the virus without showing any symptoms, the provincial health authority said Tuesday.
The other three COVID-19 cases were in the city of Yantai. Parts of Shijiazhuang were designated high danger areas, meaning they will undergo stricter testing and isolation measures, while parts of Yantai were registered as medium risk areas. The latest cases bring Hebei's number of currently active cases to 19 and medical investigators were looking into whether a single event such as a family gathering had been the origin of many of the cases.
China also recorded two cases of domestic transmission in the northeastern province of Liaoning and one case in Beijing. Another 16 cases were brought in from outside the country.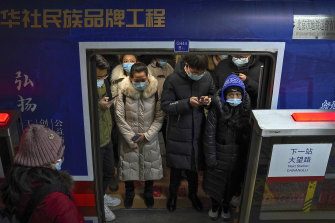 China has recorded a total of 87,183 cases of COVID-19, with 4,634 deaths. People who have tested positive but not shown symptoms have been counted separately from its official COVID-19 tally.
Wary of another wave of infections, China is urging tens of millions of migrant workers to stay put during next month's Lunar New Year holiday, usually the world's largest annual human migration. Classes are also being dismissed a week earlier than usual and tourists are being told not to come to Beijing for holidays.
South Korea: gym anger over martial arts, ballet exemptions
Loading
For weeks, gyms have been among the venues forced to close under South Korea's lockdown rules, although taekwondo and ballet classes have been allowed to continue.
That is an unfair double standard, and is hitting gyms right when they usually sign up the most new customers, said Kim Jae-kang, who said he planned to soon reopen his fitness and pilates centre in Seoul. Operators and patrons who flout the rules can face up to 3 million won ($3,576) in fines.
"For the fitness industry, January is the peak season to draw gym members, who decide to start working out from the new year," Kim said.
Social distancing works better in gyms than in restaurants, said Oh Sung-young, head of South Korea's gym owners association.
"Those who come to work out actually do care about their health, so they never take their masks off," said Oh, who estimated that his was among as many as 300 gyms that have or planned to reopen, with many others holding secret training for customers.