Learning Tools
Vocational School Turns to Interactive Displays for Remote Instruction
By Dian Schaffhauser
12/10/20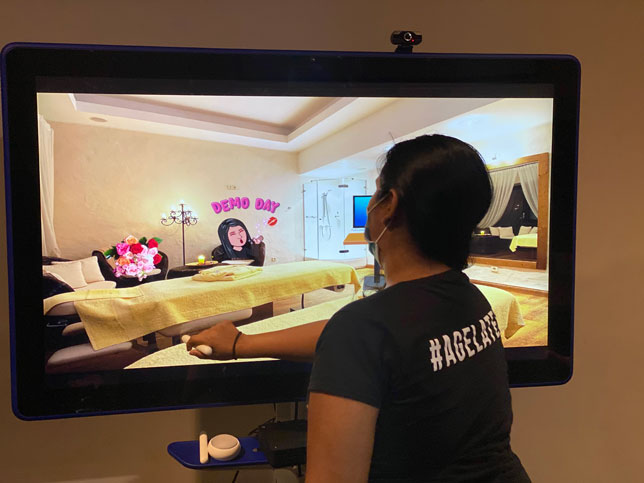 Google Jamboard in use at Georgia Career Institute
Georgia Career Institute (GCI), a vocational school with three campuses, has adopted 16 Google Jamboard interactive displays from BenQ to add interaction, engagement and better student comprehension to its remote instruction. The for-profit school delivers programs for careers in cosmetology, esthetics, nail technology and massage therapy.
Google Jamboards are 4K ultra-high-definition interactive displays that integrate Google applications, including Workspace, Meet and collaboration tools. The displays include a built-in wide-angle camera, microphone and speakers, which, according to the company, eliminates the need for the instructors to learn how to operate additional equipment outside of the display system.
GCI was able to create and launch a virtual program for its theory classes that used existing workflows and programs in a few weeks. From the Jamboard, instructors log into their G Suite for Education accounts to pull up materials or hold classes in Google Meet. They launch remote classes by tapping the onscreen videoconferencing app or a link in the meeting reminder on their calendars.
Lauren Davis, regional director for GCI, said the digital whiteboard promotes interaction by allowing any student in Meet to annotate or mark up materials on screen. Users can draw and review saved models and techniques on the screen before beginning hands-on exercises. The sessions, including notes written on the board, can be saved to Google Classroom, which means that when students are absent, faculty no longer have to work with them on a one-to-one basis to review the content; the students can watch the recorded classes.
The digital whiteboard functionality has also proven useful for practical exercises as well, such as in haircutting lessons. "Before if a student didn't know what angle they needed to use for a haircut, for example, the instructor would use hand motions to demonstrate," said Davis, in a case study about the project. "The Jamboard provides the teacher with a surface they can easily pull up and draw exactly where to place their shears. It gives students an easy-to-comprehend visual that commits that information to memory."
The evaluation process for the college included a test of integration between the display, Google Classroom and the school's curriculum platform, Learn About Beauty (LAB) from Pivot Point. After testing two Jamboards in its administrative offices, the college agreed that the combination would work.
"When you already know Google, the Jamboard makes it very easy to step into a remote learning model," Davis noted. "It is not foreign, so [instructors] could get started right away without fear of moving into the remote model or creating a bad experience for our students."
The installation has also had an unexpected benefit for GCI: The displays are enabling the school to run larger class sizes without adding more classroom space. Recently, the college's esthetics program has become its fastest-growing discipline, leading to discussions about doing construction to accommodate more students into its classroom and clinic spaces. By moving theory classes online, the school was able to split up in-person classes into groups and maximize the space without knocking down walls.
Now, the college is exploring how the Jamboards can be used in the future to create a hybrid remote structure, where instructors will teach theory material to students onsite and online simultaneously. This would allow the school to use the same instructor for theory classes across all campuses and to fill instructor positions more easily in cities where it's harder to find licensed professionals.


Dian Schaffhauser is a senior contributing editor for 1105 Media's education publications THE Journal, Campus Technology and Spaces4Learning. She can be reached at [email protected] or on Twitter @schaffhauser.