Emergency Response
Free Rensselaer App Helps Project COVID-19 Re-opening Impact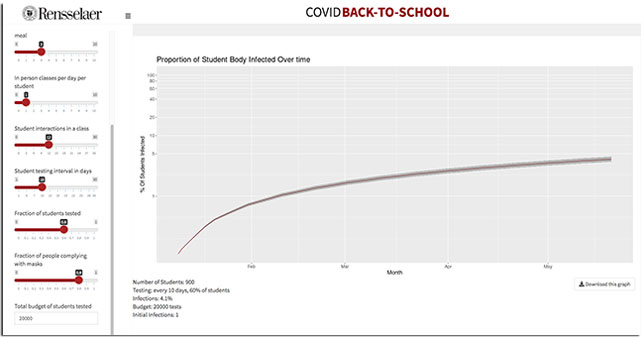 An online tool developed at Rensselaer Polytechnic Institute helps project back-to-school COVID-19 outcomes based on data such as testing frequency, number of in-person classes per day per student, mask-wearing compliance and more. The freely available app, called COVID Back-to-School, can be used by all kinds of education institutions, from elementary school to college.
When a user inputs information about a specific school and its intended approach to managing the virus, COVID Back-to-School calculates the proportion of students likely to be infected over time, the probable number of new infections every 14 days, and other projections. Users can then adjust the variables to see how specific policies might impact the number of positive cases.
For example, in preparation for the fall 2020 semester, Rensselaer used the algorithm to decide on a twice-weekly testing regime for all students, which the app predicted would keep the infection rate on campus below 1 percent for any two-week period. The approach has proven effective, with infection rates remaining well below that threshold, the institution reported.
"Consistent with our legacy of technological expertise, Rensselaer was able to develop a number of tools and strategies in-house that have enabled us to maintain control over the virus and remain focused on our education and research mission this semester," said Rensselaer President Shirley Ann Jackson, in a statement. "We encourage other institutions to learn from and use these tools, like COVID Back-to-School, in hopes that they have similar success in the spring."
"This is a publicly available tool that we're hoping schools can use to quantitatively analyze re-opening strategies," said Malik Magdon-Ismail, Rensselaer computer science professor and developer of the COVID Back-to-School algorithm. "Schools can use it, at least, to evaluate how their current strategy will play out assuming an infection on campus. Better still, COVID Back-to-School allows schools to try out various strategies before actually implementing them, to see what works and what doesn't."


About the author: Rhea Kelly is executive editor for Campus Technology. She can be reached at [email protected].