AV Gear
4K Wireless Presentation Gateway Addresses BYOD
By Dian Schaffhauser
11/18/20
KeyDigital
has launched a new 4K wireless presentation gateway for
bring-your-own-device environments. The new KD-BYOD4K
allows the teacher or instructor to broadcast content to and from
computers, whether they're operating on Windows, Mac, iOS or Android.
Chromebook currently isn't supported.
Among
the features:
With
the gateway, displays can be shared or "cast" from up to
four participating devices in multi-presenter model; the device
images are auto-sized to the display;

Mouse
forwarding allows up to four users to connect a mouse or interactive
display to the unit to point and click on the shared devices;

Screen
overlay tools provide whiteboard and annotation capabilities for
collaboration work;

Screen
captures can be downloaded via QR codes or in the web browser; and

For
distance learning and video conferencing with dual display setups
the unit offers an extended monitor setting.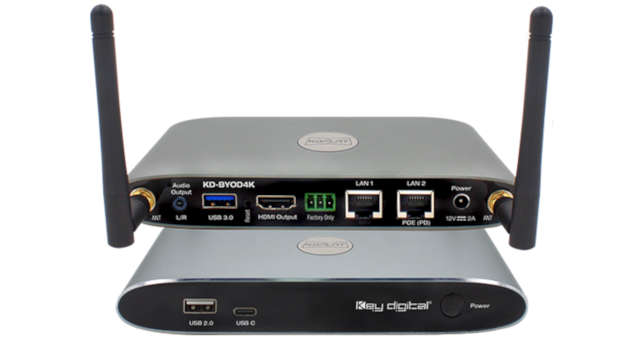 The
person running the unit can start and stop device sharing via a
browser-based interface.
The
unit includes its own access point with two network ports, enabling
it to be plugged into the public and private WiFi simultaneously. For
casting from Windows and Mac computers or Android devices, the
company's KDPlay software is required, which can be loaded from its
website or via a flash drive that comes with the unit for
auto-launch. Casting from iOS devices requires AirPlay.
"Our
engineers took to heart every nuance necessary to make a more
successful content sharing system at a better price-point," said
Scott Craig, the company's national sales manager for northern United
States, in a press release. "One of the main points of praise
has been its smooth and superior handling of video and streaming, a
stark contrast to other BYO devices on the market. We believe that
every educator in the world deserves our easy-to-use KD-BYOD4K and
its powerful annotation tools."
The
suggested retail price is $1,050. The device comes with a three-year
warranty and is sold through distributors and system integrators. For more information, visit the Key Digital site.


Dian Schaffhauser is a senior contributing editor for 1105 Media's education publications THE Journal, Campus Technology and Spaces4Learning. She can be reached at [email protected] or on Twitter @schaffhauser.