Learning Tools
Kahoot to Add Zoom Integration
By Dian Schaffhauser
11/02/20
Learning
quiz program company Kahoot
has announced an integration with Zoom,
allowing users to access, host and play Kahoot games directly in Zoom
meetings. The announcement came during Zoom's October user
conference, Zoomtopia.
Release of "Kahoot Zapp" is planned for later this year,
the two companies reported.
To
run the integration, the meeting host preloads the "kahoot"
(an individual quiz or game) and loads the ID for the game into the
"zapp." During the Zoom session, he or she will see a Zapp
icon at the bottom of the screen. Clicking that will bring up a list
of games preloaded. The host chooses the one to play, clicks "send"
and the game will open for all Zoom participants to join.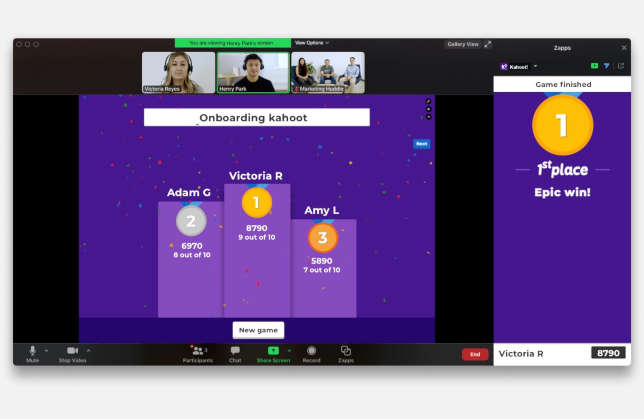 The
host will also be able to view gameplay data and send out an
invitation to play the games to those who missed the meeting. Meeting
participants can go to their own Kahoot app afterwards to review
their scores and replay the game to improve the results.
"As
businesses and schools around the world have adjusted to a new
reality with remote learning and virtual teams, this is a perfect
time to bring a seamless Kahoot experience to Zoom meetings,"
said Kahoot CEO, Eilert Hanoa, in a press release. "Zoom is one
of the most popular video conference platforms on which our users
host and play kahoot games, as well as presentations fueled by
Kahoot. We're excited to bring this new integration to support
educators and remote teams."
For more information, visit the Kahoot site.


Dian Schaffhauser is a senior contributing editor for 1105 Media's education publications THE Journal, Campus Technology and Spaces4Learning. She can be reached at [email protected] or on Twitter @schaffhauser.