Online Learning
California State U Signs 23-Campus Site License for Virtual Science Labs
By Dian Schaffhauser
11/04/20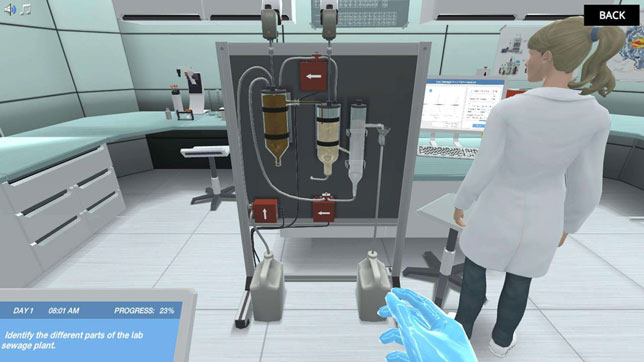 Labster's wastewater treatment virtual lab simulation allows students to work with specific steps of water treatment and prepare samples for micropollutant analysis. Source: Labster
California State University has signed a site license with Labster, giving each of its 23 campuses the option of using the company's 159 virtual laboratory simulations.
The CSU Chancellor's Office is making Labster's software available to help its STEM faculty enable students to experience scientific inquiry and discovery even as in-person offerings are limited at physical schools.
"Labster's virtual lab simulations are available for over 20 disciplines such as biology, chemistry, physics and engineering," said Leslie Kennedy, senior director of Academic Technology Services at the CSU Chancellor's Office, in a press release. "The software supplements faculty's virtual instruction, enabling students to continue to achieve their higher education goals."
The simulations run on regular computers and use 3D animations to enable students to simulate the use of lab equipment and perform experiments. The company's catalog cover topics from acids and bases to wastewater treatment.
A webinar recording is available on YouTube in which a CSU professor of biochemistry and a professor of biology demonstrate how they use the virtual labs in their courses.


Dian Schaffhauser is a senior contributing editor for 1105 Media's education publications THE Journal, Campus Technology and Spaces4Learning. She can be reached at [email protected] or on Twitter @schaffhauser.